Bagus and Cherry came to us with a theme already in mind. In that very first meeting, we knew the couple wanted an enchanted forest. They really didn't fancy the normal wedding décor found in most weddings such as with pastel or soft colours. In fact they wanted everything in purple. So we minimized the use of sweet colours with a lot of greenery with a rustic touch.
Rustic elements are used because it suits the forest look. We used tree stumps to hold candles and wooden crates. They are great for enhancing the place while still looking natural. The forest atmosphere can be felt the moment people look at the entrance since we covered the area with trees and arches made from twigs and purple flowers. It gives that Alice in Wonderland vibe when Alice opens the door which leads to a magical forest with singing flowers and talking animals.
We wanted the bride and groom to feel like the king and queen of the forest. Therefore, we made a stage looking like a jungle throne. As most of the hall is dark due to the theme itself, we lit up the stage to give a spotlight on Bagus and Cherry. We could tell Bagus and Cherry's personalities from their requests. They are unique because they don't follow the mainstream. It is nice to work with couples who know what they want. The result is a wedding that is different from others and reflects who they are.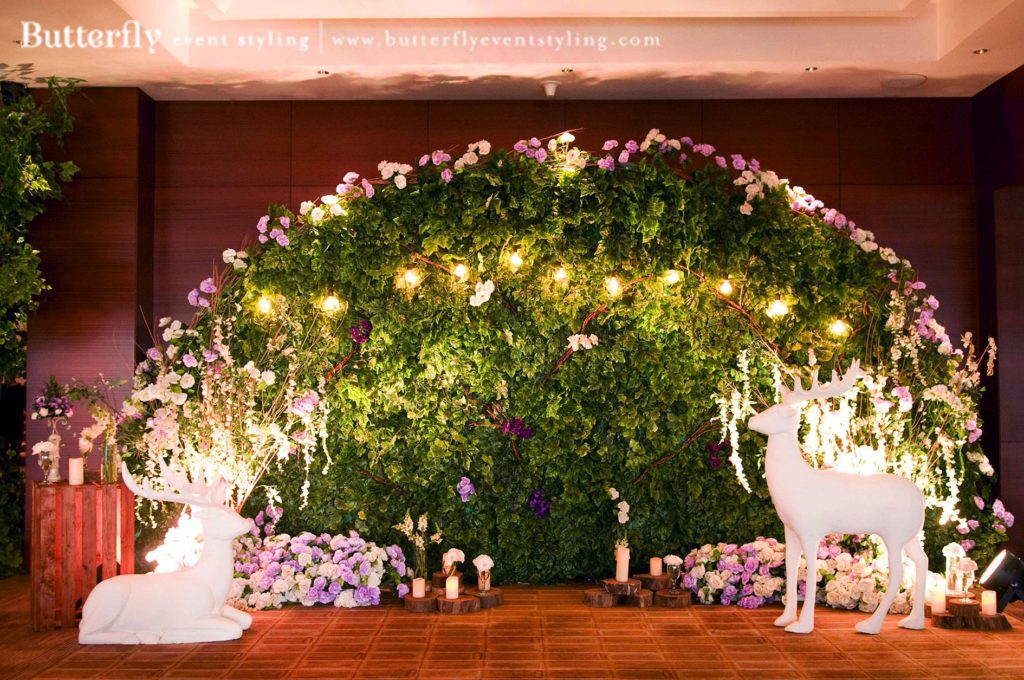 From our point of view, it gives us a chance to be even more creative. We like creating a variety of wedding look as we believe every couple has their own characteristics. We want to create an unforgettable wedding experience not only for the newly-weds, but also for the guests.