Photo Source : Wedluxe.com
If you like bright pop of colors, graphic prints and playful sophistication then a Kate Spade themed wedding can be an option for you. This theme consists of vibrancy and utilitarian shapes and it's the perfect concoction of femininity, modernity and whimsical. Let's take a look on how you can achieve this feel successfully for your wedding.
Photo Source : Wedluxe.com
Firstly, you can have a lot of fun playing around with the tablecloths at your reception by using either stripes, sequins or basically just fun and bold colors. Secondly, you can use glassware and dinnerware that has gold accents to them, this will create a fun touch.
Photo Source : Wedluxe.com
Pay attention to the small details, by putting polka dotted and striped essence here and there. Sometimes, it's in the little things that people can appreciate. Such as adding them to the drink straws, the welcome signs and obviously on the wedding invitations.
Photo Source : Pinterest.com
Furthermore, you can place bright colored flowers all over the wedding venue. Have fun playing around with patterns because this is what it's all about. Bring out the bows, stripes, polka dots and fun graphics. Don't be shy about it!
Photo Source : Pinterest.com
For the color palettes, you can use black, gold and other pops of bright colors. For instance, you can use a bright color palette against a monochrome background. Enjoy playing around with the contrast of monochromatic colors and bright tones. Also, don't leave the glitter at home. The more glitter, the better, after all it's going to create an atmosphere of fabulousness.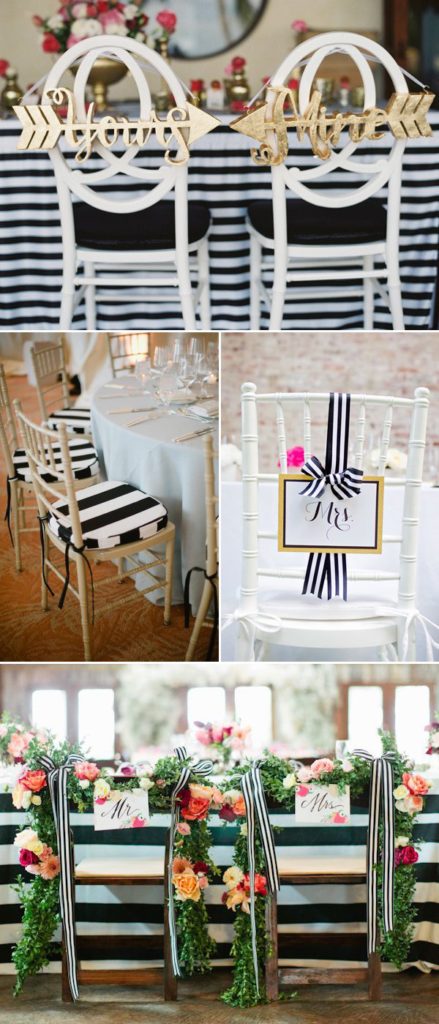 Photo Source : Pinterest.com
This theme is definitely for the extrovert within you. If you want to live colorfully, even on your wedding day, don't second guess yourself on taking on the Kate Spade theme. Just picture how gorgeous you can make the wedding venue if you take on this theme.