When it comes to choosing a color for weddings, any color palette can look great, it's just a matter of deciding on what feeling you're going for. After that, we can reveal the meaning of the colors and the energy that they give off. It is also important to consider what themes does the color works best with and under what season. So, when the lovely couple, Francis and Eva, came up with the idea of using the color red as the main color of their wedding, we already knew that it would be perfect.
The color red, in a psychology of color perspective, creates passion, energy and excitement. It also creates a warm and stimulating mood at the wedding with high energy. This is one of the most romantic hues that is passionate, dramatic and packed with personality. Red is also a perfect color for a summer wedding, and there is no better place to throw a summer wedding other than the forever-summer island of Bali.
The couple agreed on using red as the main color, combined with some essential things like red roses in each floral arrangement, simple strands of ribbons that is tied in the hanging bud vases, long red sashes on the hung on the guests' chairs, and as accents on the stationery kit. Other colors that were chosen to complement the red were white, silver and green.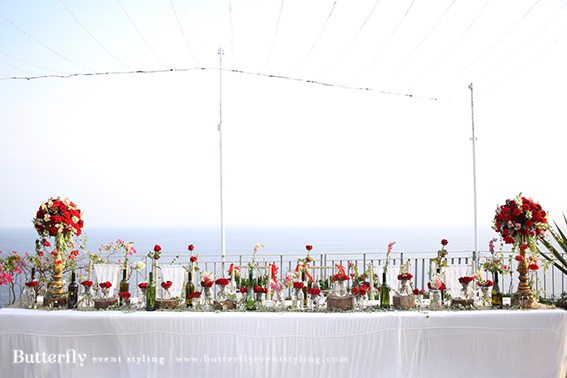 Besides the color of red, in this outdoor wedding, we also wanted to achieve three emotions in the decoration: romantic, dramatic and rustic. To bring out the dramatic feelings, we hung dangling crystal pendants, we put the clear tall vases as centerpieces, and, of course, we used different sources of lightings – from candle-lights, fire beacons, to the light of the stars.
Red roses everywhere alone were a huge statement of romance, and the venue itself is beyond romantic. Located in Tirtha Uluwatu, which set on the southern cliff top of Bali with the breathtaking view of the Indian Ocean, what can be more romantic than that? To add some of the rustic touch, we made use of the tree slice, put a group of mason jars and old green bottles on top of it for natural centerpieces on each table. A couple of wooden crates were arranged as extra tables for displaying flower arrangements and photos of the bride and groom. Another rustic element can also be found in the dining table, we used burlap fabric for table runners and placemats. Extra special for the bride and groom, we adorned their chairs by using red roses and greens lei on the chair backs and strung the "Bride" and "Groom" signs out of wooden planks.