So maybe you would like to have a wedding that exudes cool and effortless beach vibes. If so, why not take up a Hawaiian theme? It's all about finding beauty in the simplest of things with this theme. If you'd rather choose a relaxing feel over the intensity of a typical wedding any day than this theme is ideal for you.
The most important thing to consider for this theme is choosing the perfect attire for both the bride and groom. In order to stay true with the Hawaiian theme, the wedding dress should ideally be white, long and flowy. On top of that, the bride usually wears a ring of Hawaiian flowers around her head. As for the groom, they typically wear a white shirt paired with white pants. He also wears a green flower necklace around his neck. Although all of this may vary depending on how formal and informal the wedding reception is.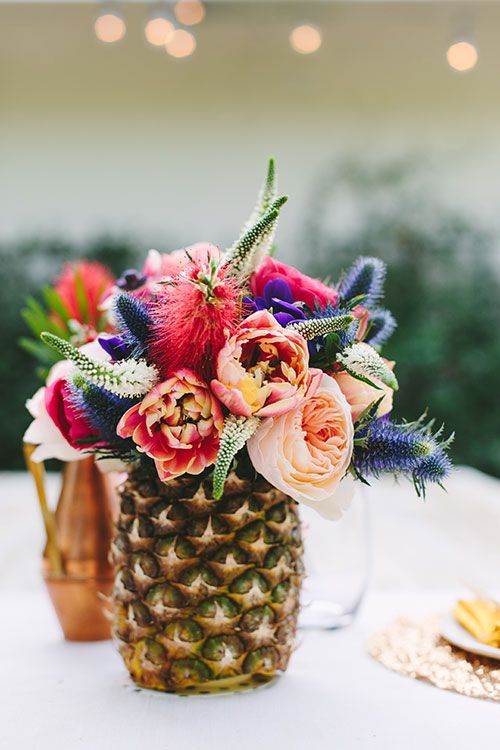 Also, ask your wedding guests to play along and dress up for the theme as well. This will help to really create a true Hawaiian atmosphere to the reception. For men, have them wear floral printed shirts, and for the women, ask them to wear dresses with tropical prints. As your wedding guests come in to the venue, provide them with a flower or leaf necklace. Known as lei, they are a symbol of appreciation, love and respect.
Next, you can decorate the place in Hawaiian style. For the tables, you could place tropical fruits like pineapples, mangoes and others inside large glass containers. Or, create centerpieces by using tropical flowers such as plumeria and orchids. Throw in the seashells, coconuts and bamboos around as well. Another unique touch is to add grass skirts around edges of the tables.
Another exciting touch is to play Hawaiian music. This will pretty much set the mood for the rest of the wedding and make you and your guests feel like you are really in Hawaii. For the food and drinks, if you find it hard to provide an authentic Hawaiian luau menu, you could try to serve up some of easy typical Hawaiian wedding feast such as shrimp, sashimi, and crab cakes. As for the drinks, fruit punches is always a great idea.
The Hawaiian theme is perfect for couples that love that effortless and easy going feel. Have tons of fun incorporating this into your reception if you choose to go ahead with it.