We enjoy working with unlikely colors and marinating them altogether to create element of surprises. A pair of color combination we can't help drooling over is emerald and melon. This pair of fusion works best for weddings during the spring or summer time.
Emerald is a shade of green that is inspired from the gemstone itself. It is light and bright altogether. While the color melon is a soft shade of pink that provides balance to the richness of the emerald hence why they work perfectly together.
In terms of using these colors for your wedding, it really depends on which you want to go with. Ask yourself, do you want to go big and elegant or do you want it to be rather low key and effortless.
If your first pick is elegance, we suggest using more of the emerald with melon undertones. This will make any setting look luxurious. You can use the color on your invitation and have your bridesmaids decked out in emerald too. The plus point about emerald is it will look impeccable on any skin color. As far as the decorations go, you can use it throughout the venue. For example, showcasing them on the table runners, bouquet wrap and even the dining ware.
Now if you love that effortless chic vibe, you might want to use the melon color as your star player and letting the emerald make an appearance here and there. Again, you can have your bridesmaids wear melon colored dresses which will look beautiful. You can also have melon colored flowers to transform the room into a beautiful garden. You can use melon in the small details such as the coasters, party favors and aisle runners.
Sometimes exploring using and infusing certain colors can turn out magical because you just never know how perfect they can go with one another.
Photo Source : pinterest.com
Photo Source : pinterest.com
Photo Source : pinterest.com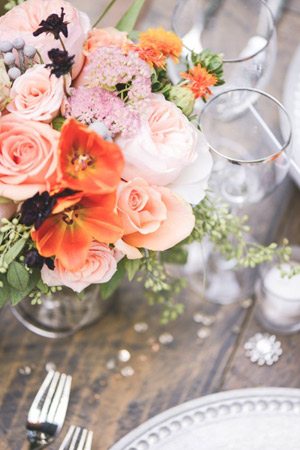 Photo Source : pinterest.com
Photo Source : pinterest.com
Photo Source : pinterest.com
Photo Source : pinterest.com
Photo Source : pinterest.com