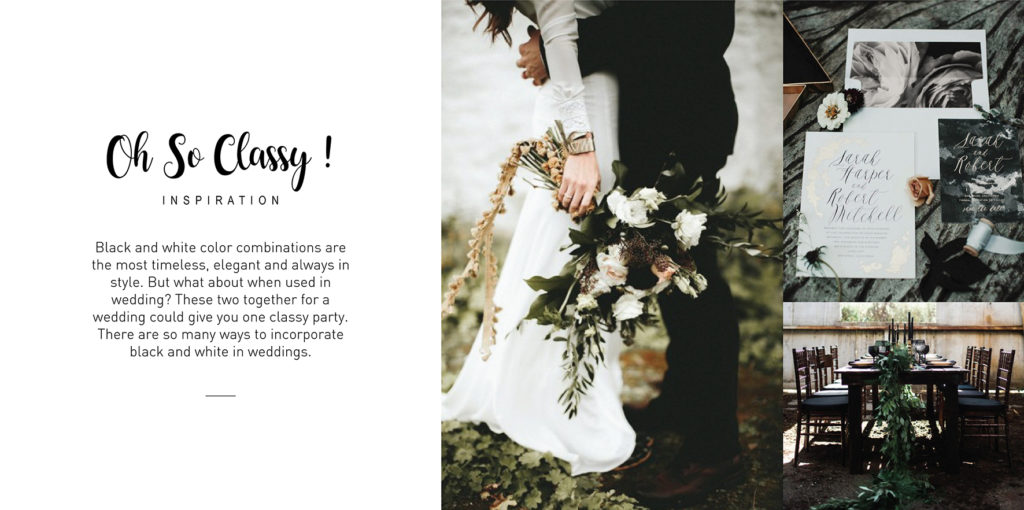 Dresses – The wedding dress for the bride is already white, so how about black bridesmaids' dresses? A laced bodice with flowy skirts will make your girls look pretty. If you want to go bold, have your white wedding dress lined with some black lace.

Wedding cake – Another wedding attribute that is mostly white. Think about black icing decorations, black trimmings around the tiers, a black bow on top, or alternating black and white for each tier.

Fabrics – Have white table cloths with black napkins or the other way around. Perhaps black and white striped table cloths altogether! Black ribbons wrapped around the chairs is another choice.

Flowers – Mix black roses with other white flowers in every arrangement. If that is not possible, put all white bouquets in black vases and pots. Instead of holding white flowers, the bride can walk down the aisle with black flowers.

Balloons – Black and white, of course!

Furniture – If the table has a white tablecloth, use black chairs instead of white. It will create the illusion of space besides keeping with the theme. Or vice versa!

Knick knacks – The small decorations and ornaments placed throughout the venue can be a mix of black and white.
It is not difficult to put a black and white wedding together. It has gained a lot of popularity because of the sophisticated result. Of course, don't forget to start with the black and white wedding invitations.
Photo Source : www.wantthatwedding.co.uk
Photo Source : www.wantthatwedding.co.uk
Photo Source : www.wantthatwedding.co.uk
Photo Source : pinterest.com
Photo Source : pinterest.com
Photo Source : google.com
Photo Source : pinterest.com
Photo Source : google.com
Photo Source : www.wantthatwedding.co.uk
Photo Source : google.com