The way in which a venue is decorated can play a key role in setting the stage for a beautiful wedding. When we had a venue so incredibly breathtaking, the decorations should be tasteful and subtle so that they enhance the venue.
The wedding of Felix and Christabel took place in the ever trendy and luxurious Sky at Ayana Resort and Spa in Bali. Floating above the Indian Ocean with limitless view and a 180-degree cliff top Bali ocean views and sunsets, we combined the decoration with the spectacular view.
The couple requested a combination of gold, white and a subtle touch of pink for the color palette with lots of glass for centerpieces which we thought were a perfect unity. White represents the faith and pureness in couple as they embark on a new journey together, while the glass created exquisite centerpieces channeling the elegance of the wedding.
Flower arrangements played an important role in this wedding, thus white and pink roses were everywhere in the venue. Placed in glass vases as centerpieces, as garlands on chairs, as an accent on the "double happiness" symbol, and all over the arch; pretty blooms made the wedding extra special!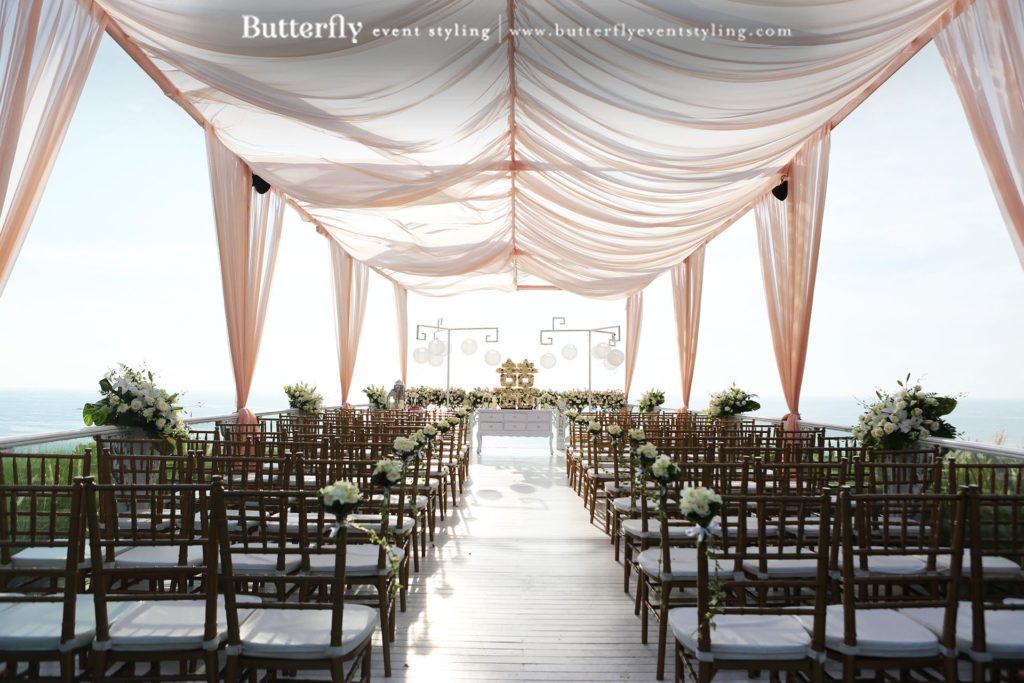 Lighting is the key to holding an outdoor wedding in the evening. So when the sun set, overhead fairy-lights and candles on the ground finally lit to create a warm and romantic border around entries and exit pathways. We also used a mix of small tea light and votive candles to give some gentle lighting on the tables.
How much more romantic can a wedding get with this overall look and a deserving couple that certainly made everyone feel special? We are very happy for Felix and Christabel and sincerely wish them to continue their romantic journey in love and life.
Love,
Butterfly.