Many of our clients know that Butterfly is in the business of making wedding dreams into reality. Whatever your wishes, we will always strive to do our best. So far, there has not been any impossible request when it comes to wedding decoration; whether it is an outside party or even an indoor made to look like an outdoor one. The wedding of Felix and Adeline in JS Luwansa Hotel in Jakarta is an example of the latter.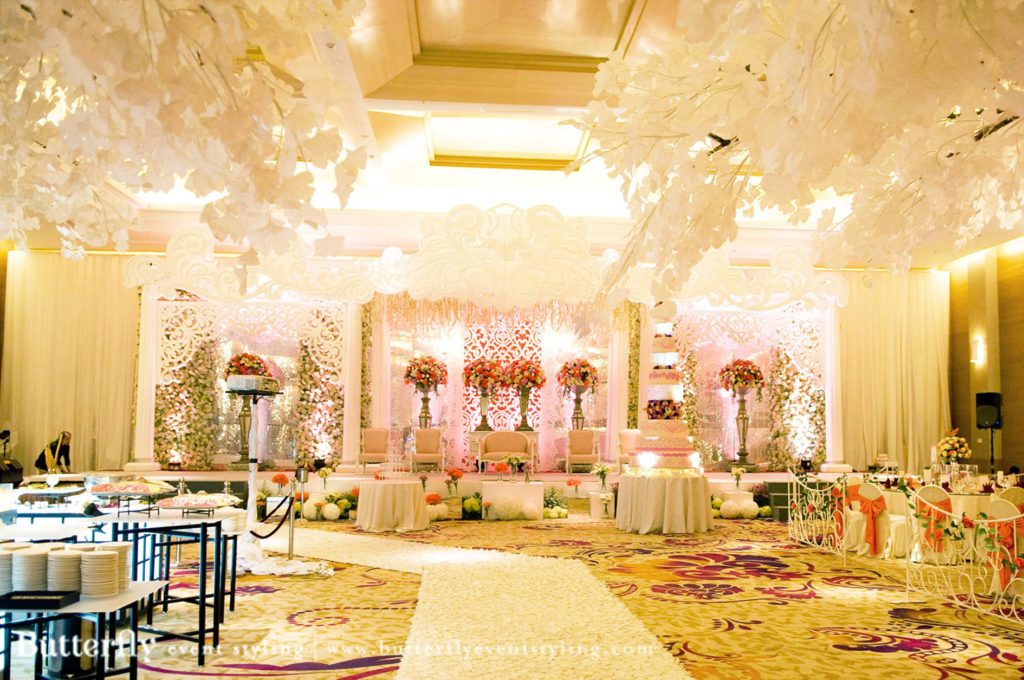 The couple wanted a simple mini garden theme in the hotel ballroom. Adeline asked for white trees to be incorporated in the décor. This is probably what makes the wedding looks stunning the most because it represents the outdoors without going over the top (sometimes simplicity is best). We placed the white trees on the sides of the white petal path that leads all the way to the bridal stage, so when the bride and groom or the guests walk along that path, they will feel like in a winter fairytale. There are also soft white benches under the trees where people can sit and enjoy themselves. It looks like a snow covered park.
The reason for the dominance of white is that it is one of the colours requested along with peach and green, so we decorated the place using peach coloured roses and peach chair ribbons and green plants. We made a cross archway at the entrance of the ballroom made entirely of flowers, which is a little different from the ones we usually made that consist of only one arch.
We want to take the breaths away of the newly-weds, their family and friends, and guests once they step foot into that hall, so we hope that we have done Felix and Adeline's wedding justice by creating the setting like how they wanted.