Bali has been the go-to-place for weddings for many people around the world; it is no longer just a honeymoon destination. It has seen Indian weddings, Western weddings, and traditional weddings (many of which we helped to decorate). There are many hotels which accommodate this event, as they usually have outdoor space, which is what couples want if they hold their nuptials in the island of gods. Saying "I do" underneath a clear bright sky and in front of the blue ocean, who doesn't want that?
Besides the venue, another wedding aspect that is gaining popularity is the rustic theme. This theme emphasizes natural wood and simplicity. However, many of our clients like to give it a twist of their own such as by mixing it up with other elements.
Michael and Triana's wedding is a combination of the two things we mentioned above: Bali and rustic. The twist is they wanted rustic with soft colours which are white, cream, soft pink, and gold; not the normal natural coloured wood. The decoration is fairly simple for this intimate party with bouquets of roses, tulips, and baby breaths as the dominating element. To make it more romantic, they asked for hanging light bulbs.
The photo booth is up on a cliff overlooking the ocean with pink drapery made to look like a curtain, so it seems like we are looking out of a window at a stunning view. We hung white photo frames and flower bouquets. We added a chandelier to make it prettier. There are glass wares and white crates to add to the rustic look.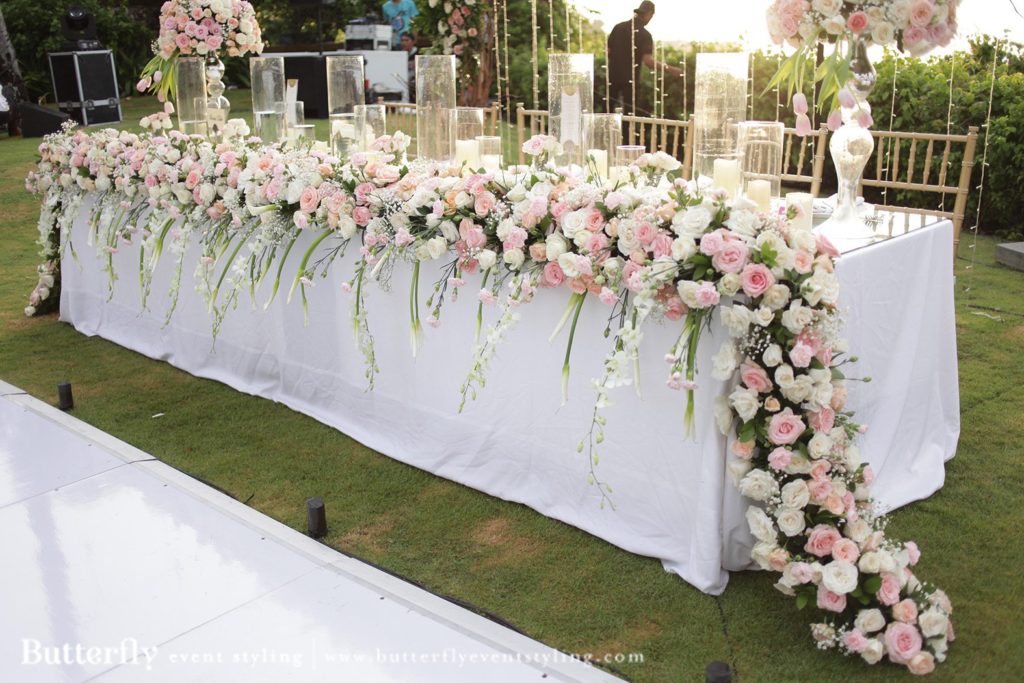 This wedding is one of the simplest we have decorated, but that is due to the theme itself. As we have mentioned before, sometimes simplicity is best and what we have here is one pretty wedding.