Let us tell you a story about a girl named Holly who came from Indonesia. She moved to Australia and met an Australian boy, Hayden. The two fell in love and decided to marry in the island of gods. They picked Semara Villa in Uluwatu, Bali as the location and wanted the wedding to be in a garden made to look like a dreamy and mysterious forest. Then they said, "Red and gold, please!" We thought that this is a new colour combination. We have to be careful; some colours don't work together, especially mixed with the green taken from the forest theme.
But, fear not! Butterfly loves a great challenge, in fact, we thrive on it. The result, voila!
The wedding looks regal with all the golden tables and chairs. We used a lot of gold fabric as tablecloths. It looks flashy, but not over the top because the red and pink roses and purple hydrangeas balance it, making it look romantic. The rainy lights also add to the ambience of romance at night. To achieve the forest look we used green foliage for the wall of the photo gallery. The floor is already covered in green grass so that is a bonus. Usually, flower arrangements exclude the leaves, but, in this case, we used them all to add the green touch on the tables. All of this combined with the glass and crystals made it a wedding fit for a queen and king.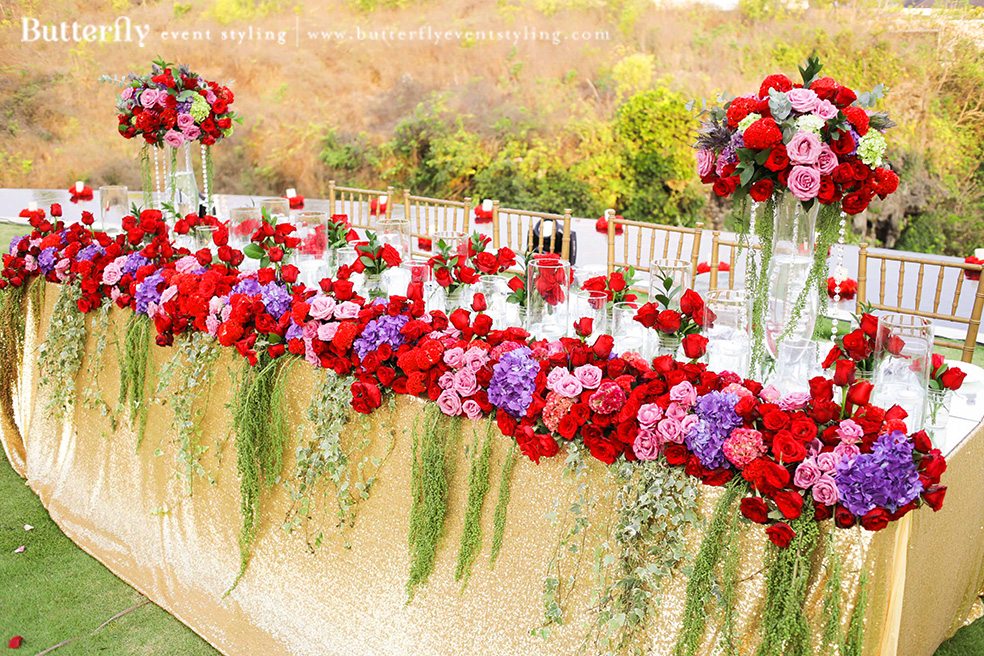 We, at Butterfly, love accepting challenges from clients, especially if it includes exploring new themes or new color combinations, because our strength comes from being pushed to the limit in our creativity, which we mostly get through the many experiences and the client's suggestions (which is not always mainstream or normal, but that's how we love it!).