Are you ready to go down to the rabbit hole and have a cup of tea with Mad Hatter? Just follow the rabbit with the pocket watch!
The enormously influential tale that plays with logic is such a great theme for a whimsical wedding. It's a theme fit for rather curious and adventurous couple. In fact this theme offers couple of more specific themes that you can choose.
Transform your wedding hall into The Curious Hall. Use unique doors in various sizes just like the locked doors in the story, and don't forget to provide keys, also as decorative items. Tickle your guests' curiosity and let them expect to be shrunk to small when they served drinks labeled "DRINK ME" and cake with "EAT ME" written on it.
Another idea is to have a Mad Hatter's Tea Party, which is great for a sit-down dinner party. Let loose of the reins a little bit so that you can relate to 'mad' tea party by using mismatched tea cups and mismatched chairs. Place some antique watches and let the time stop at tea time or 6 pm so your guests can have tea all day.
In the original story, Alice leaves the tea party and enters the garden where she comes upon three living playing cards. So, if you're not really into a sit-down party and more like to have a lot of fun in your wedding, it's better to have a Game of Croquet. Invite your guests to play the croquet and have a good time with them.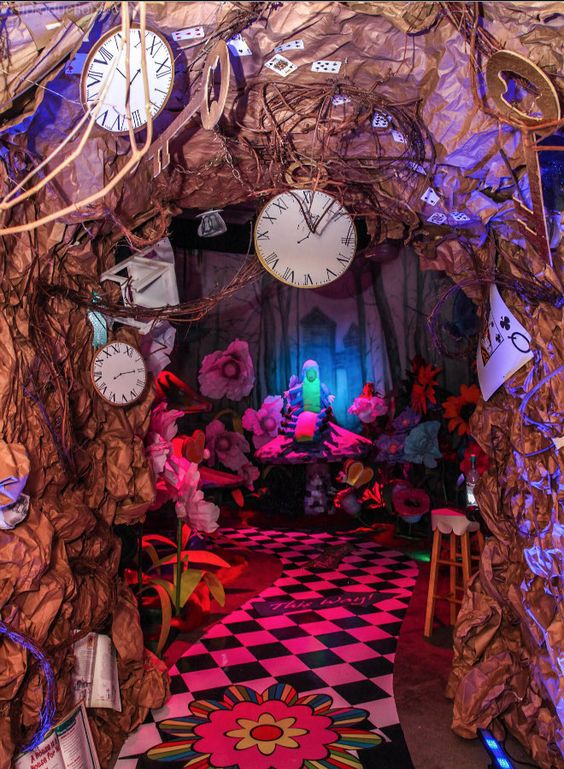 Flamingos are also essential in this theme, be sure you have them as centerpieces. Giant flowers and mushrooms are also great to add a dramatic scene. Want more drama? Don't forget to invite the Queen of Hearts; she's a tough one to please!