Photosource : pinterest.com
If you resonate with everything over the top and theatrical for your big day, you need to throw a high drama wedding. Extravagant weddings can leave guests talking about it for weeks and even months post wedding. Let's take a look at ways you can incorporate luxurious décor into the wedding of your dreams.
When choosing the venue, you want to find a place that will complement the theme. So this means going with a place that has high ceilings, this will give you a lot of room to work with. High ceilings naturally create a dramatic vibe. Also if possible, opt for a place that has hanging chandeliers already. They can really help to bedazzle any room up.
Photosource : bobanddawndavis.com
Photosource : pinterest.com
The idea is to create a spectacular look that is lavish although at the same time you don't want it to look tacky, because that can be fine line. You can start off with using flowers throughout the whole venue. For example, you can incorporate them by having floor to ceiling flower backdrops, add them to your tall and voluminous centerpieces, around chandeliers and many more.
Photosource : pinterest.com
Now of course with the wedding dress, you can either go with the understated or exaggerated look. A nice contrast with the mood would be to go with a simpler dress and let everything around you speak for itself. On the other hand, you can play the part and really have that wow moment with a unique and embellished dress. Definitely don't shy away from the bling bling.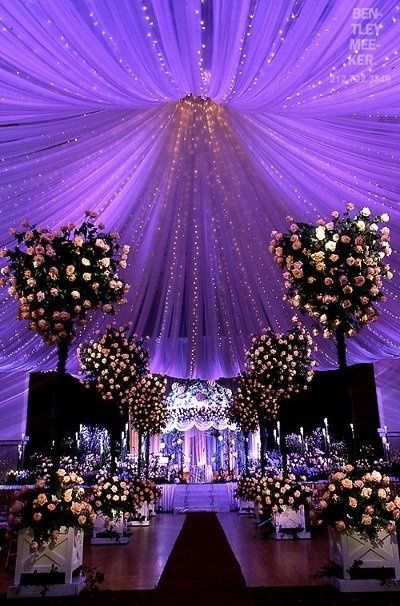 Photosource : pinterest.com
Bottom line is throughout the whole theme, you should have crystals, beads, beautiful drapery, feathers, candles and many more. You want to use an array of candles because that will create a picturesque moment. Also, incorporate colored lightings, they can lift up the ambience into something magical.
Photosource : pinterest.com
Have fun with this theme if it speaks to you. But don't forget to get a second opinion about everything because it's easy to go overboard and you don't want it to end up looking gaudy. May your wedding be the most memorable and breathtaking for a long time to come.